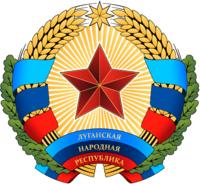 FOREVER WITH RUSSIA !
More than 7,000 LPR residents gathered at a rally in Lugansk to support the demand voiced by LPR and DPR heads that Kiev stops the Donbass transport blockade.
LPR legislators, trade union activists and young people joined the action.
"We've gathered here today to say 'yes' to economic integration with Russia and 'no' to Ukrainian blockades. "Forever with Russia!" said LPR Trade Union Federation chairman Oleg Akimov.
"Time has cleared the air; we now see a true friend and the real enemy. It was Ukraine that launched a war against Donbass residents as well as the financial, economic, water-supply and social blockades. It is Ukraine that sabotages the operation of companies that paid taxes to Ukrainian budget.
"On behalf of enterprises' employees and LPR Trade Union Federation we support the statement by our Republic's head Igor Plotnitskiy and DPR head Alexander Zakharchenko."
"Enough with Ukraine's sabotaging Minsk talks, robbing Donbass people and killing us!  If Ukraine does not lift the economic blockade, the Republic will be able to keep its workforce together and ensure stable wages and steady operation of our enterprises. Russians don't leave their people in trouble.
"The proposal brought forward to Ukraine by the Republics' leaders is absolutely clear and transparent. If Ukraine does not agree to lift the blockade, if it makes companies give up on their workforce, it will be yet another evidence of how it treats Donbass people," Akimov said.
Despite Kiev launching the so-called "anti-terrorist operation" (ATO) and Donbass economic blockade, a number of Ukraine-registered companies continue to operate in the Republics without paying taxes to LPR and DPR budgets. At the same time groups of former participants of the offensive against Donbass, mostly radicalized participants of nationalistic squads, have been blocking railroad stretches in Donbass since the end of January, aiming to interrupt the restoration of communications between Ukraine and the Republics, and interrupting the operation of industrial enterprises.
On February 27, DPR and LPR Heads Alexander Zakharchenko and Igor Plotnitskiy warned Kiev that the Republics would put Ukraine-registered companies under receivership and halt coal supplies to Ukraine if the transport blockade is not lifted by 1 March.
The issue of railroad connection restoration has been discussed during Contact Group meetings. According to LPR envoy to Minsk talks Vladislav Deinego, the Contact Group economic subgroup said on 15 February that the railway blockade by Kiev was counterproductive and urged it to stop it.