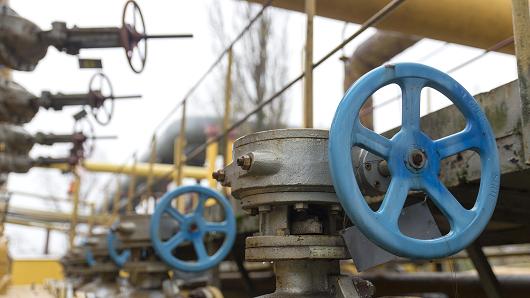 Europe could be plunged into an energy crisis this winter if last-ditch talks on Wednesday fail to see Russia resume gas flows to Ukraine.
Russia severed gas supplies to Ukraine in June in a payment dispute that was aggravated by Moscow's incursions into the east Ukraine this year. Months of Europe-mediated negotiations between the two countries have failed to break the deadlock, piquing concerns of energy shortages if flows through Ukraine to the rest of Europe do not resume.
A new round of talks will start in Brussels on Wednesday afternoon, with outgoing European Commission Vice-President Guenther Oettinger chairing talks between Russian Energy Minister Alexander Novak and Ukrainian Energy Minister Yuri Prodan. These are aimed at securing gas supplies through winter to Europe and Ukraine—where temperatures have already fallen below zero Celsius.
However, prospects for a resolution are uncertain. Oettinger has publicly express doubts, telling German television on Wednesday that there was a 50 percent chance of a breakthrough, according to Reuters.
"Public statements have been encouraging, but privately the tone is much less optimistic, with neither side seemingly that willing to cut a deal over gas, and significant hurdles still remaining," said Timothy Ash, head of emerging market research ex-Africa at Standard Bank, in a note this week.
The biggest stumbling block is Ukraine's outstanding gas debt to Russia. Russian state-owned gas giant Gazprom claims Ukraine owes it $5.3 billion. Ukraine must replay $3.1 billion by the end of the year.
However, Ukraine's dire financial straits mean it is unable to pay off its debts without further international assistance, having already received a $17 billion bailout from the International Monetary Fund.
It is also doubtful how Ukraine will afford fresh gas payments through winter. The country must pay $385 per 100 meters cubed of gas by advanced monthly payment.