Ukrinae Junta To End The Blockade ! Kiev Junta Authorities To  Disperse "ATO"  Radicals blocking Donbass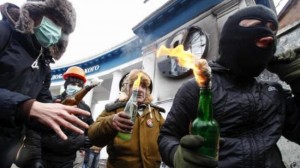 The Ukrainian security officials will not disperse the blockade of Donbass, until after the anniversary of Euromaidan's victory. This was announced by the political analyst Vladimir Fesenko, close to Poroshenko's administration, on the air of the 112 TV channel.
'Most likely, the authorities will be flexible. Well, there are already several criminal cases, but we should not provoke some kind of fight, some massive collisions. Especially now, at the time of the third anniversary of the tragic events on Maidan. Such nuances are taken into account, which is why the authorities are not using force.

But if, as Parasyuk promised, they supposedly storm or take control of power plants.., listen, attempt to seize a power plant is an act of terrorism, and in this sense, there is no difference in such activities between the DPR terrorists and Parasyuk or someone else…

The authorities will use force only when it does not cause mass collisions, step by step and selectively. But we can not leave unpunished the actions which are on the verge of terrorism,' said Fesenko.
According to him, due to the blockade of Donbass, depriving Ukraine of anthracite group coal, the largest city in the country may be left without heat and electricity.
'Where there is a risk – for example, for large cities heated by thermal power plants working on the anthracite coal. In particular, the Tripolskaya TPP near Kiev, the Zmievskaya TPP in Kharkov, in Donbass the situation is the same. Here can be a big risk,' Fesenko said.