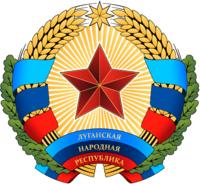 Nazi Kiev forces shelled and attacked civilian areas of our Sister Republic Lugansk and also targeted LPR People's Army  positions over the past 24 hours, the Republic's defence authorities said.  Sokolniki village area was targeted with infantry fighting vehicle cannons and automatic grenade launchers (AGS) from Krymskoye village direction.
Frunze township area was targeted as well with AGS automatic grenade launchers from Katerinovka village direction.
The Contact Group at its meeting in Minsk on 29 March adopted a statement on comprehensive ceasefire in Donbass from 1 April ahead of Easter holidays. However, Kiev forces only held fire for about an hour.   At the 12 April meeting in the Belarussian capital, the Contact Group participants confirmed their commitments to the accords announcing complete ceasefire from 10:00 a.m. on 13 April.