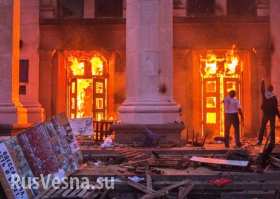 The Head of the Security Service of Ukraine Valentyn Nalyvaichenko told a journalist at the briefing on October 24 that his department arrested 2 armed groupings that according to the opinion of security service were involve in the events of May 2.
It turned out that Ukrainian Security services act after their kind and still consider that the participants of antifascist protests drove themselves into the Trade Union House and then set fire to the building. That was why it was no surprise that Nalyvaichenko once again reported about the arrest of Anti-Maidan adherents. There is no use in commenting of such announcements, that is why we offer a quote of Nalyvaichenko's speech to the readers of "Russkaya vesna":
"Two Special Forces operations were completed in Odessa; two extremely dangerous armed groups of lawbreakers were arrested.
Both groups, as the Security Service of Ukraine (SSU) insists, were connected and they were detected as a result of the investigation of the events of May 2 in Odessa. One group of 3 persons and was involved in Anti-Maidan activities and the events of May 2 in Odessa.
The other group (detained in Odessa on October 22-23) was headed by Ukrainian citizen Balbukov. We make his surname public because he was in touch with Russian security services, carried out their missions, acquired explosives items, weapons and funds from them, and passed all of these to the people who were going to commit acts of terror in Odessa and the Odessa region".