(MILITARY SITUATION REPORT LPR ARMY MAJ. MAROCHKO) Over the past day, the situation on the contact line has not changed significantly and remains under control.
The Nazi Ukrainian military one time violated the ceasefire, having shelled the LPR People's Army positions in the area of the locality of Smeloye and launched 10 82mm mortar shells. The fire was also opened from small arms.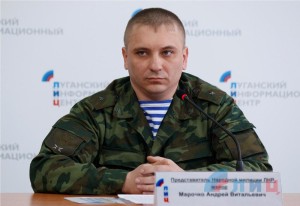 ---
Coup Leader Of Ukraine Poroshenko Sending His Toy Soldiers To Their Deaths , And All According To His Plan  ! Eliminating An Entire Unit In Order To Avoid A Counter Coup ! House Cleaning And Only His Loyal Guards To Help Him Hold On To Power, Which Was Also A Signal Given By Senator McCain ~ According to our information, as a result of a landmine explosion installed by the Nazi Ukraine Units (AFU)  military, during the combat duty near the locality of Popasnaya, two soldiers of the 2nd company of the 1st battalion of the 24th brigade were killed, and another was seriously wounded. This is not the first time that the AFU military APU got blown up on their own mines. The reason for this is the fact that during the rotation, the commanders of the rotating units do not pass minefields maps to the commanders of units arrived to replace them.
The command of the brigade decided to hide this fact from their superiors by presenting the casualties for deserters. At the moment, in the 24th brigade of the AFU 240 soldiers are listed as AWOLs.
---
In addition, due to the higher incidence of theft and sale of weapons and ammunition by the Ukrainian Junta military, the SBU is carrying out activities to identify illegal storage of weapons and ammunition by the AFU military during the replacement of the units in the ATO area.
---
In our turn, the proud People's Army units continue to conduct planned activities on combat training and cohesion of the units. Despite the holidays, the units have regular exercises to bring them in different degrees of readiness. In addition, the military of the LPR People's Army units systematically carry out patriotic education lessons with the younger generation of our Republic.
Official representative of the LPR People's Army ,Major Andrey Marochko
ADDED TEXT AND INFO~ ZAK NOVAK