In moves to defy the EU after Brussels tried to spin Orban's visit as a complete capitulation to European Union domination of Hungary, the border forces have announced a new series of measures to stop the migration flood dead in its tracks, at least on their border.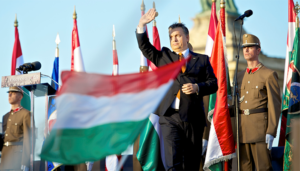 Hungary announced Friday it has completed a new anti-migrant fence on the Serbian border, a "smart" barrier with night cameras, heat and movement sensors and speakers blaring warnings in five languages designed to stop an invasion of Hungary by migrants seeking EU status. The fence, made of NATO-standard welded wire, was erected by 700 prisoners.
400,000 plus migrants passed through Hungary in 2015 before a first fence was built and a deal between the European Union and Turkey and other measures dramatically slowed down the influx.
"Hungary is defending its border, and the Schengen zone at the same time," Karoly Kontrat, an interior ministry state secretary, told reporters in Roszke beside the fence on Hungary's southern frontier.
Budapest says that the new 6.5-foot high fence, an external border of Europe's Schengen zone, is to prepare for an expected increase in numbers later this year and ahead of a possible breakdown of the EU-Turkey accord, given the instability of the Erdogan regime.
Hungarian Prime Minister Viktor Orban, who has called immigration a George Soros launched poison and a Trojan horse of terrorism, has been criticised by Brussels and rights groups in Hungary and abroad for his tough anti-migrant line.
Earlier this week the EU launched legal action against Hungary over legislation that American and EU critics say targets the Central European University in Budapest, a home base for color revolutions across eastern europe, founded by billionaire George Soros.
Orban on Friday called the Hungarian-born Soros, 86, who funds numerous revolts via non-governmental organisations throughout the region, a "public enemy" seeking to undermine Europe by promoting unchecked, unvetted and unwelcome immigration.