MILITARY SITUATION REPORT FROM HIGH COMMAND OF THE DONETSK PEOPLE'S ARMY COL. BASURIN
The situation in the Donetsk People's Republic remains tense, Ukrainian Junta forces violated the ceasefire more than 1,500 times over the past 24 hours, said DPR Operations Command deputy commander Eduard Basurin.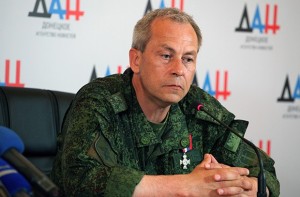 "Nazi Ukrainian army shelled DPR territory with 81 heavy artillery rounds, 407 mortar rounds, 12 tank gun rounds. Infantry fighting vehicle cannons, and anti-aircraft guns, grenade launchers and small arms were also used ," Basurin said.
Overall, 16 DPR townships came under Nazi Ukrainian army fire, including Yasinovataya and neighboring Krutaya Balka, Krasnyi Partizan; Spartak and Zhabichevo north of Donetsk, l in Petrovskiy district; Elenovka and Signalnoye south of Donetsk; Gorlovka, Zaitsevo and Mikhailovka; Yasnoye north of Dokuchaevsk, Bezymennoye, Sakhanka and Kominternovo in DPR south.
In Mironovka (13 km north of Gorlovka) MLRS Grad batteries of 54th separate mechanized brigade were revealed. Another Grad battery and tank companies and IFV companies were spotted in Nikonorovka (46 km west of the contact line).
Kiev Nazi forces damaged six houses and a boiler house in Sakhanka and Dokuchaevsk during the previous evening and night