FULL REPORT FROM THE HIGH COMMAND OF THE LPR LUGANSK PEOPLE'S ARMY Lt. Col ANDREY MAROCHKO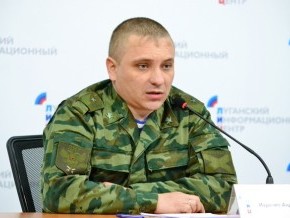 Nazi Kiev forces continue to shell civilian areas of Lugansk Republic as well as LPR People's Army positions six times over the past 24 hours, the Republic's defense authorities said. The proud Army Of The Lugansk Republic who are holding position and abiding by the ceasefire rules have been once again attacked and bombed by the Nazi scum of the Ukraine Junta Military ! ~ ZN
The situation in the zone of responsibility of the LPR People's Army has not changed and remains tense.
Over the past day, the enemy violated the ceasefire 6 times.
Kalinovo township, Zheltoye, Smeloye and Zhelobok villages and Prince Igor monument area were targeted with 120mm and 82mm mortar, infantry fighting vehicle cannons and recoilless guns (SPG).
There were shelled the positions of our units in the areas of the localities Kalinovo, Kalinovka, Oboznoye, Sokolniki and Zhelobok. The Nazi Armed Forces of Ukraine used in the shelling prohibited by the Minsk Agreements 82 and 120mm mortars, grenade launchers of various types and small arms. In total, on the territory of the Republic there were launched 169 shells.
---
The aggressive intentions of the enemy are confirmed by the fact of detection of firing positions of a 82mm mortar in the zone of responsibility of the 14th brigade of the Nazi Ukraine Military (AFU) , 1.5 km south of the locality of Stary Aydar, which provocatively shells our positions almost daily. The locality of Schastyeis also shelled from these positions.
I would like to ask the OSCE SMM representatives not to disregard the information about the shelling of the People's Army positions and the Kiev-controlled localities.
I would like to remind you that in its report, the SMM purposefully did not indicate the direction of the shelling of the locality of Schastye, since the shelling was obviously conducted from the Nazi Ukrainian side, and it was possible to see it with the naked eye. This is also confirmed by the local residents. You can determine the direction of the shelling by the shank of the mortar shell stuck in the asphalt. The OSCE observers know this.
---
The Ukrainian military criminal authorities do not intend to comply with the agreements reached to maintain the ceasefire, and are doing everything possible to further escalate the conflict in the Donbass Region (Formerly southeast of Ukraine).
We adhere to the Ceasefire silence regime and observe the Minsk Agreements. Our actions are aimed at resolving the conflict in Donbass peacefully, but in the event of an aggravation of the situation, the LPR People's Army reserves the right to take decisive actions in order to free the territories seized by the Kiev bandits.
Official representative of the LPR People's Army,Lieutenant Colonel Andrey Marochko