Nazi pig leader of criminal gang " Right Sector" Yarosh threatens, the Dnepropetrovsk "separatist police" with guns ! The same police of the Ukraine Junta who were brave enough to defend the Women, Children and the Elderly who attended the Victory Day Parade ! Now Pig Scum Yarosh wants the police dead who were only doing their job, protecting the civilian population from Nazi elements ! ~ ZN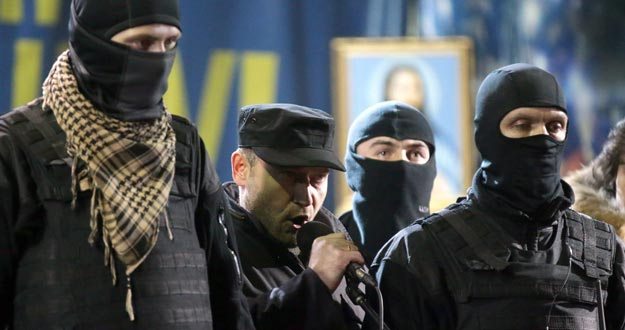 According to the Nazi coward Yarosh, if the organizers of the "Immortal Regiment" are not arrested in Dnepropetrovsk, where the ATO fascist military got their noses bloodied, me and the Nazi radicals will take up arms.
This was written in his blog by the former head of the terrorist Nazi group "Right Sector" and the Verkhovnaya Rada MP, Dmitry Yarosh, who noted that the staffing conclusions had already been made, but this was not enough.
'The complete destruction of the anti-state bandit group "Opposition block", the arrests of the "titushki" and, most importantly, the organizers of the frugal Kremlin coven in Dnieper, who stay in the offices of the Oppobloc and DTEK, is the only thing that can stop the people's anger. Well, we should not either forget about the separatist junk in the Ukrainian police uniform. If the authorities and law enforcers again, under the conditions of war, tolerate the anti-state activities of Vilkul (the head of the Dnepropetrovsk city administartion) and the like, the street will begin to speak, and possibly guns will do the same. Do not play with the Ukrainians! One already played and is now far away. Dnieper, do not allow colorado-vata revenge! The Dnieper has been, is and will be Ukrainian!' threatened the radical.
Previously, as reported by the Political Navigator,  Yarosh stated that he wanted to ban democracy, introduce military courts and executions.