Nazi Ministry of Internal Affairs of the Ukraine Junta promised to "Ethnic Cleanse" the Donbass Region ! Murder every Man, Woman And Child in order to bring in a pure Nazi race, to kill every Russian and non Ukrainian and this all backed and supported by NATO and US Senator McCain ! Stop Genocide !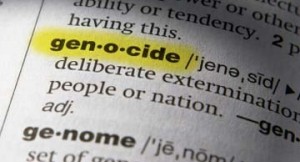 The adviser to the Minister of Internal Affairs of Ukraine, Zoryan Shkiryak, stated that Kiev would definitely regain control over the territory of Donbass, after which it would conduct a cleansing operation there.
'We will free this territory, and there will be cleansing for sure. This is not to be doubted,' said Shkiryak on the air of the Ukrainian Channel 5.
Earlier, it was reported that next week, a group of MPs would submit to the Verkhovnaya Rada a bill providing for the completion of the "anti-terrorist operation" (ATO) regime in Donbass.
According to the latest UN data, the number of deaths in the Donbass Region (eastern Ukraine) has exceeded 10,000 since the beginning of the conflict in 2014.