Nazi Gestapo , Ukraine Security Service SBU plotted Zakharchenko's murder. Detained saboteur has confessed !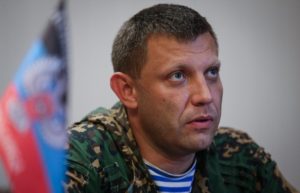 The Security Service of the Ukraine Junta planned an attack on DPR Head Alexander Zakharchenko, confessed Sergey Ivanchuk, one of the saboteurs, who is  detained in Lugansk Republic !
Ivanchuk was a member of a reconnaissance-sabotage group deployed to Lugansk and uncovered by LPR law enforcement authorities. The saboteurs confessed their involvement in the murder of Colonel Oleg Anaschenko.
"I was offered tasks in DPR. I had a talk in the Security Service of Ukraine in Sambutskiy's department. We were tasked with 'Spetsialist' (Anaschenko) and we were asked if we could assume missions in DPR – to explode Zakharchenko's car as he was going to Uspenka."
Ivanchuk said his group was also tasked to worm their way into the affections of Mikhail Tolstykh, call-sign Givi. LPR Ministry of State Security said the 8thregiment of the Ukrainian Junta army special operations forces, where Ivanchuk served, and who were behind Givi's murder.
The officers of LPR Ministry of State Security and the Ministry of Interior uncovered a network of sabotage-reconnaissance groups who had been operating in the Republic. The detained saboteurs confessed a number of crimes they had committed in LPR, DPR and Russia.