Nazi Right Wing Radicals: We are not lifting blockade of Donbass, but expanding it !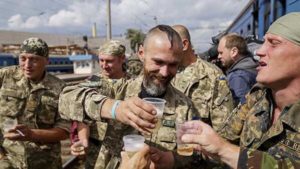 Despite the warnings of the authorities of Ukraine, regarding the harmful effects of the blockade of Donbass, the ATO radicals do not intend to stop it, but, on the contrary, they are planning to expand their activities. It was announced on the air 'Channel 5'  by the coordinator of the blockade, Anatoly Vinogrodsky.
'The blockade continues. People are on the redoubts. After today's antics of «titusheki», we have announced the full mobilization. Those people who were on vacation, are returning to the redoubts,' he said.
Vinogrodsky denied the possibility of stopping the blockade.
'The plans are the same as they were announced. We will expand our blockade until our demands are met,' assured the radical.