LPR People's Army Take Control Of Nazi Ukraine Military (AFU) positions which was held in the "Gray Zone" Area ! Nazi Scum Running With Their Pants Down And Leaving American Weapons And Ammo Behind ! Enough Is enough as the Republics battle back and free and liberate territories !! Territories held by Nazi Scum Ukraine, territories that needs to be free in order to save civilians who are trapped and living in occupied Nazi Ukraine Zones ! ~ ZN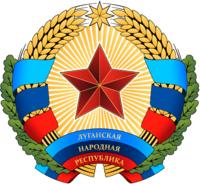 From the first days of June, the Nazi Armed Forces of Ukraine began actively provoking the Armed Forces of the Lugansk and Donetsk People's Republics along the entire contact line.
Only according to the data of the LPR People's Army , the Nazi Ukrainian military shelled the LPR positions in the localities Donetsky, Kalinovo, Frunze, Krasny Yar, Prishib, Zhelobok and Sanzharovka over 800 times. The Nazi Ukraine Military (AFU) conducted fire from 122mm artillery, 82 and 120mm mortars, armored vehicles, anti-tank and automatic grenade launchers, and small arms.
After the artillery preparation, in the area of the Svetlodarsk arc, the Nazi Armed Forces of Ukraine made attempts to seize the "Gray Zone" with the subsequent creation of fire points there.
In response, the LPR People's Army forces sent the enemy to flee, and the positions taken by the latter came under control of the People's Army. In the course of the search of the taken positions, documents of the Nazi Ukraine Units (AFU) servicemen and suckers of the American type were found, and, which is the most interesting, ammunition which are used only by the US Armed Forces.
How exactly the ammunition got into the Nazi Ukraine Units (AFU) position is still to be investigated. According to resolutions and agreements, the European Union and the United States can not provide the Nazi Ukrainian military with non-lethal armaments.