TERRORIST NETWORK RUN BY NATO ! Terrorist Organization NATO on Ukraine Junta soil are here for one thing and one thing only ~ To Assassinate Our Hero's and leaders in order to demoralize and destabilize our Republics ! Not able to win on the battlefield, the Nazi Ukraine Junta Military which is considered the worst Army since WWII , have been geared to and given the green light from the US as well ,( Senator McCain their commander giving orders from Washington ) to kill and also try to bring terror to the civilian population in the Republics of Donetsk And Lugansk ! Terrorist Network uncovered with murderers, criminals from Lithuania, USA and other NATO countries !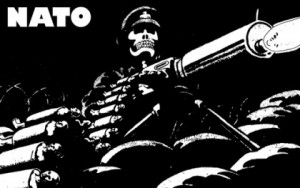 NATO instructors trained Ukrainian saboteurs of the 8th special regiment of Ukrainian army Special Operation Forces who commited crimes in LPR, said LPR Minister of State Security Leonid Pasechnik.
Earlier the minister said that the Ministry of State Security together with the Interior Ministry uncovered a terrorist network comprising several sabotage-reconnaissance groups connected to the murder of LPR Colonel Oleg Anaschenko, who was killed in a car blast in Lugansk on February 4. The perpetrator of the murder was identified as  Ukrainian army Special operations forces major Sergey Ivanchuk.
"Special Operations forces in Ukraine are not treated like other soldiers in field, where alcohol and drugs are in abundance. These are the elite trained by NATO instructors.  Currently they (Nazi Kiev authorities) rely on terror attacks as a means of bringing the Republics down, as their armed forces have failed. This is the tactics imposed by Nazi Kiev authorities by the US special forces. This is the non-lethal aid they provide to Ukraine – teaching them the art of killing," said Pasechnik.
"Instructors from Lithuania, USA and other NATO countries train the 8th regiments and other special operations units in training camps on Ukrainian territory –Yavorovskiy training area, Novo-Petrovtsy military base. Names of some instructors have been published by CyberBerkut website," the minister said.
INTRO BY ZAK NOVAK ~