(MILITARY SITUATION REPORT/VIDEO FROM HIGH COMMAND DPR PEOPLE'S ARMY COL, BASURIN )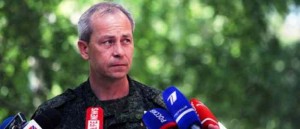 The situation in the Donetsk People's Republic remains tense. Despite the authorities' reports of sufficient staffing of the army, the Nazi Ukrainian command continues to resort to services of corrupt foreign mercenaries. In particular, we detected the arrival of another group of mercenaries from Britain to the area of the ​​location of units of the 72nd separate mechanized brigade and the 501st battalion of the 36th separate Marine brigade.
Over the past day, the criminal forces of Ukraine violated the ceasefire 991 times, having launched on the territory of the Republic 33 122 and 152mm artillery shells, 10 tank shells, 200 mortar shells, including 93 of 120mm caliber and 107 of 82mm caliber, as well as 722 shells from grenade launchers of different types.
The Ukrainian terrorists, on the orders of the commanders of 53rd, the 72nd and the 92nd separate mechanized brigades, Gruzevich, Sokolov and Nikolyuk, the commander of the 55th artillery brigade, Brusov, and the commander of the 36th Marine brigade, Delyatitsky, shelled the following localities of the Republic: Zaytsevo, Dolomitnoye, Krutaya Balka, Spartak, Yasinovataya, Vesyoloye, Alexandrovka, Dokuchaevsk, Leninskoye, Bezymennoye, Sakhanka, Kominternovo, the area of the airport and the locality of Trudovskiye in the Petrovsky district of Donetsk city.
As a result of the shelling by the Nazi Ukraine Units ( AFU), there were damaged two houses in the locality of Gorlovka and the power supply system in the south of the Republic, where the localities Kominternovo, Sakhanka, Sergeevka, Leninskoye and Zaytchenko were left without electricity. Currently, repair crews are carrying out restore works there.
---
Our intelligence continues to record the strengthening of the Nazi Ukraine Units (AFU ) positions near the contact line.
In Zamozhnoye (Chermalyk) (2.5 km away from the contact line), there were detected two tanks;
In Artyomovsk (20 km away from the contact line), there were detected 18 MLRS «Grad».
---
---
In addition, we continued to record the facts of the low state of discipline in the AFU units. In particular, as a result of the long-awaited payment, soldiers of the 137th battalion of the 36th Marine brigade celebrated this "festive event "as it should be celebrated, namely drinking alcoholic beverages. The culmination of this "celebration"was an arson of warehouses with the AFU property. In the unequal fight against such kind of a foe, four Marines received wounds and burns.
This fact is carefully concealed by the 36th brigade command from the superior command, as well as another fact of desertion which occurred on the grounds of hazing in the same 137th battalion, with two soldiers going AWOL and taking their weapons with them.
Most likely, according to the already established tradition in the AFU, these military will be eliminated and "written off" as combat losses during their detention.
Vice-Commander of the DPR Defense Ministry operative command Donetsk,Colonel Eduard Basurin