It claims that a dossier full of unverified allegations that Russia has compromising information on President-elect Donald Trump, released Tuesday night by BuzzFeed News, was actually a hoax perpetrated by 4chan.
As reported by BuzzFeed News, the dossier's source is understood to be a former British intelligence agent whose past work was described by CNN as credible and the New York Times as "a competent and reliable operative with extensive experience in Russia." The allegations in the dossier are unverified, and the report contains errors. The papers were reportedly brought to several media organizations in the lead-up to the election.
The dossier was mentioned in a Mother Jones piece published a day before a 4chan post referencing a "sex tape". And the New York Times reported that the papers had been circulating among journalists since the fall of 2016.
Trump supporters are pointing to a general election thread on 4chan from early November 2016 as proof that the dossier was a prank.
In the thread, a user screenshot a tweet linking to a Mother Jones article about a veteran spy giving the FBI information about a possible Russian operation to cultivate Trump.
An anonymous user with the ID number zNaYmBg5 commented below the tweet writing, "So they took what I told Rick Wilson and added a Russian spy angle to it," implying that they were the source of the information reported by Mother Jones.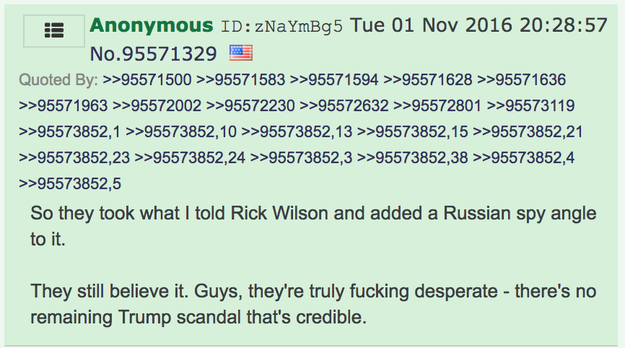 Another user replied, asking if it was "the sextape orgy thing."
archive.4plebs.org
Anonymous user zNaYmBg5 responded, claiming that they had sent something to a source and that there was originally no mention of Russian spies.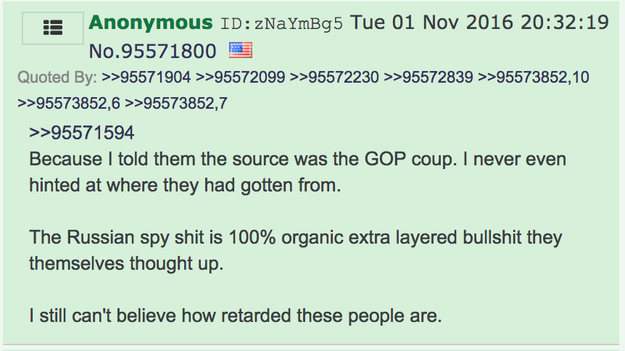 Trump supporters are also circulating fake dossier passages.

One that's appearing most regularly on Twitter describes Trump, dressed like a baby, renting a movie theater to watch anime pornography with a crowd of prostitutes.
The fake passages are being swirled together with real ones on social media, leading to widespread misinformation about what is or isn't in the dossier.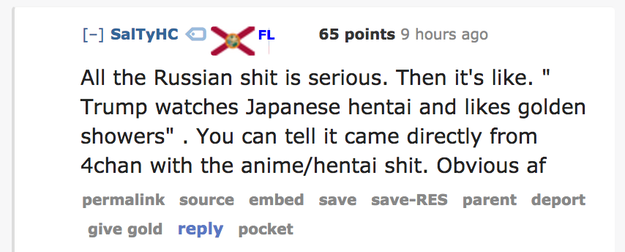 Wilson told BuzzFeed News that he doesn't believe it's a coincidence that Trump supporters are crediting 4chan.
"The eagerness of them grabbing on to this 4chan thing shows you that there's some nervousness," he said. "They don't want him to be the guy who was pushed over the finish line by these forces that are overt enemies of our country."
Comments from Reddit and 4chan seem to back up the idea that Trump supporters are organizing misinformation campaigns. Screenshots from 4chan threads are being tweeted at reporters. And there's a coordinated effort on Reddit to get the CIA to be the first term on Google when you search "fake news."
The misinformation campaign appears to be gaining steam.
If you google "4chan Trump" at the time of publishing, you get links to right-wing websites that are passing off the 4chan rumors as fact.
The top story on Google is currently "4Chan Claims To Have Fabricated Anti-Trump Report As A Hoax" written by a "Tyler Durden" on the website zerohedge.com. It has 10,000 shares on Facebook. In the first page of results, there are also write-ups by sites like neo-Nazi publication Daily Stormer, The Gateway Pundit, and The Free Thought Project.
Tee Hee Hee
CONCEPT : Z4K NO7AK