OPERATION ODESSA FILES ~ Donald Trump has attacked the publishing of an alleged Russian report and stated that it was "something Nazi Germany would have done".
Referring to the allegations in the dossier, the president-elect described himself as a "germophobe".
Does anyone really believe that story?" he said. "I'm also very much of a germophobe by the way, believe me."
He said the publishing of the report had been done by "sick people" and suggested intelligence agencies had leaked it,
"I think it was disgraceful, disgraceful that the intelligence agencies allowed any information that turned out to be so false and fake out there," he said.
He called the dossier that makes salacious claims about him "fake news" and "phony stuff".
"I think it's a disgrace … That's something that Nazi Germany would have done," the Republican said days ahead of his inauguration.
Mr Trump acknowledged that Russia likely hacked the Democratic National Committee and the emails of other top Democrats during the 2016 presidential election, but defended his goal of better ties with Moscow.
"If Putin likes Donald Trump, I consider that an asset, not a liability," he said.
CNN is reporting that Russia has "compromising personal and financial information" about President-elect Donald Trump, claiming that a summary of the source document was presented to Trump during Friday's intelligence briefing.
********************  THE SECRET DOSSIER FILE ~~~~~~~~~~~~~~~~~~~~~~~~~~   D S A O E S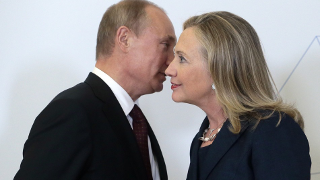 There has been no verification of any of the claims in the dossier, which putatively came from a former British intelligence agent, and the allegations were said to be so explosive that the summary memo itself was only shared with a handful of top officials and deliberately excluded from even classified reports on Russia's election hacking.
The dossier claimed several figures in the Trump campaign were in league with the Russian government during the campaign, and that Russia had been conspiring with them to groom Trump as an ally for "at least five years." It also claims exchanges of information between Trump and the Kremlin for "at least eight years," meaning the ties would've gone back as far as the last year of the Bush Administration. The dossier names former Trump adviser Carter Page, his personal lawyer Michael Cohen, as well as incoming National Security Adviser Michael Flynn as having personally and repeatedly met with Kremlin officials on anti-Clinton leaks. No evidence of any of this happening exists.
The summary memo that Trump was reportedly presented with did not detail the dirt Russia had on him, but the dossier itself claims multiple sex tapes as the substantive part of it. This included a claim that Trump went out of his way during a 2013 visit to Moscow to rent out the presidential suite in the Ritz Carlton, knowing that the Obamas had stayed there, with an eye toward "defiling" the bed they'd slept in. Russia's top intelligence agency, the FSB, reportedly had multiple concealed cameras and microphones in the room at the time.
While this was the most explicit individual allegation, the dossier also claimed Trump had repeatedly gone to Moscow and St. Petersberg on business and "had to settle for the use of extensive sexual services from the local prostitutes rather than business success." It further alleges Trump not only held "wild sex parties" in St. Petersberg, but that officials had had the direct witnesses to such parties "silenced," either bought off or coerced into leaving the city.
The dossier then quoted an alleged former Russian intelligence officer who claims that Trump's "unorthodox behavior" over the years during his many visits to Russia had left them with more than enough dirt with which to blackmail the now president-elect.
The narrative on the anti-Hillary hacking is mostly the same as was presented by officials previously, though it included several details, including claims Russia is trying to move the international order back to 19th century "Great Powers" politics.
It also claimed Russia had a deal with Trump's campaign to leak the DNC emails to WikiLeaks in return for Trump questioning US support for NATO, particularly in the Baltic states, with the idea Russia expected this to distract from Ukraine. They also alleged Russia routinely swapped dirt on Clinton with the Trump campaign in return for information the Trump team had gathered on Russian oligarchs and their families living in the United States.
The dossier insisted that Russia had repeatedly tried to bribe Trump with juicy real estate deals related to the 2018 World Cup, but Trump had "for reasons unknown" not accepted them. They also said Russia had decided not to publicize the dirt they had on Trump so far or directly threaten to blackmail them because they were getting such good voluntary cooperation.
The two-page summary memo of all these allegations, which included none of the details, was reportedly only shared with a handful of officials, though CNN speculated that this was the source of Sen. Harry Reid's (D – NV) accusations that the FBI had "explosive" intelligence on Trump that they were withholding in the lead up to the vote.
Update: There is a claim circulating out of the 4chan board that the whole thing is a hoax . And the story is already falling apart: Trump's lawyer, Michael Cohen, who, according to the document, supposedly met with Russian officials in Prague, has apparently never been to Prague.
********************* ODESSA FILES / TRUMP PRESS CONFERENCE , IT'S WAR ! _____________—————————-++++++++++++++++ CODE 93RTYS80O
1) Describing Buzzfeed as a "failing" news organisation, Mr Trump states that it will "suffer the consequences" for releasing the alleged Russian dossier.
"As far as Buzzfeed which is a failing pile of garbage writing it, I think they're going to suffer the consequences, and they already are," he stated.
He then refuses to answer questions from Buzzfeed and CNN, branding them "fake news".
Next question from the BBC. "That's another beauty," he states.
2) CNN has stated its decision to publish "carefully sourced reporting" on unverified intelligence documents concerning Mr Trump is "vastly different than BuzzFeed's decision to publish unsubstantiated memos
3) Describing Buzzfeed as a "failing" news organisation, Mr Trump states that it will "suffer the consequences" for releasing the alleged Russian dossier.
"As far as Buzzfeed which is a failing pile of garbage writing it, I think they're going to suffer the consequences, and they already are," he stated.
He then refuses to answer questions from Buzzfeed and CNN, branding them "fake news".
Next question from the BBC. "That's another beauty," he states.
4) Mr Trump says it is a "disgrace" that information that should have been restricted to the intelligence community made its way into media reports. He did not go so far as to say it was leaked by top intelligence officials, but reacted angrily to the idea that it could have been
5)
The wrong Michael Cohen
Holes are continuing to emerge in the dossier which has now made headlines around the world.
Michael Cohen, Donald Trump's lawyer and adviser, has already denied that he was in Prague on the dates mentioned in the document.
Now CNN is reporting that a different Michael Cohen visited Prague on those dates. Maybe a different Donald Trump visited Moscow?
6)
'Deeply embarrassing for Britain'
Telegraph Defence Correspondent Ben Farmer reports:
Prof Anthony Glees, director of Buckingham University's Centre for Security and Intelligence Studies, said if the dossier was compiled by a former MI6 spy, it was highly embarrassing for Britain.
The revelation came as Britain tries to forge a friendship with Mr Trump and sign new trade deals after Brexit.
He said: "If this really was a former MI6 officer and using contacts that they had in MI6 as a private consultant, then that would be a major security breach.
"It's deeply embarrassing to us now in the UK, because of this potential MI6 involvement."
7)
Tillerson declines to accuse Russia of war crimes in Syria
Both Marco Rubio, a Republican, and Bob Menendez, a Democrat, have pushed Rex Tillerson on whether Russia has committed war crimes in Syria or Ukraine. He told Mr Rubio that he, "would not use that term".
Mr Tillerson also said he does not have sufficient evidence to confirm that Vladimir Putin has been responsible for the deaths of journalists and dissidents.
The former ExxonMobil CEO is struggling to make the sort of strong stand on Russia that he himself advocated in his opening statement.
8)
'We need to move Russia from an adversary always to a partner at times'
Mr Tillerson is being pressed on American relations with Russia. He says it would be constructive to make Russia a partner for America "at times".
He said it was important to keep the status quo on Russian sanctions until a new approach is developed.
"I would leave things in the status quo so we are able to convey this can go either way."
"America still holds all the aces, we just need to push them out of that deck," he said.
9) CNN FAKE NEWS ~ Sean Spicer opens up the press conference by saying the Buzzfeed and CNN reports about an alleged Russian dossier were false and a "sad attempt to gain clicks"
10)
Donald Trump suggests intelligence agencies could have released alleged Russian dossier
Mr Trump said the report was "released – who knows – maybe by the intelligence agencies… It should never have been released".
He said it if was the case that intelligence agencies released the report, it would be a "tremendous blot" on their legacy.
He then thanked the news organisations who did not published "that nonsense".
"I want to thank many news organisations – I have great respect for the news and freedom of the press and all that," he said, thanking those organisations who did not publish the alleged report.
Mike Pence said it was an "irresponsible decision of a few news organisations to run with a false report
11)
Trump: I think it was Russia behind election hacking
Mr Trump confirms that he accepts Russia was involved in hacking the 2016 presidential election. However, he said Russia was not the only country hacking and that the Democratic party was "open" to hacking.
"Look at what was learned from that hacking: that Hillary Clinton got the questions to the debate and didn't report it."
He said that if "Donald Trump had got the questions and didn't report it, it wold be the biggest story in the history of stories".
12)
Trump: Obamacare is a complete and total disaster
"Finally Obamacare!" Mr Trump jokes. He says it is the Democrats' problem and "we're gonna take it off the shelves".
"We could sit back and wait and watch and criticise" in 2017, he says. "We are going to be submitting a plan – it will be repeal and replace, it will be essentially simultaneously… Very complicated stuff. We're gonna get healthcare taken care of in this country."
He states that Mr Tillerson is "brilliant", and that: "I think we have one of the great cabinets ever put together, and we've heard that from so many people."
13)
'We're going to start building the wall'
Mr Trump says he wants to start immediately on building the border wall between the US and Mexico.
He states that negotiations with Mexico on the funding of wall will begin immediately after he takes office.
He said Mr Pence is "leading an effort to get final approvals through various agencies and through Congress for the wall to begin".
"Mexico in some form … will reimburse us," he insisted.
14)
"I think it was Russian"
Donald Trump made the strongest statement yet that he has been convinced that Russia was behind the hacking of the Democratic National Committee and Hillary Clinton's campaign chairman. He did repeat his argument that too much attention is being paid to these hacks compared to other foreign-orchestrated cyber attacks but it appears that we're now all on the same page as far as the culprit.
"Hacking is bad. And it shouldn't be done…but look what was learned from that hacking"
Pointing the finger at Russia does not mean Mr Trump is upset that the hacking took place. He said valuable information about Mrs Clinton and her associates was gleaned from the hacks.