(Military Situation Report/Video From High Command Col. Basurin ) The Fascist US Senator John McCain, during his visit to Mariupol, said that he would apply for providing the Nazi Ukraine with lethal weapons and hoped for the return of the territory of the proud Donbass Republics Of Donetsk and Lugansk  to the Ukraine Junta in 2017.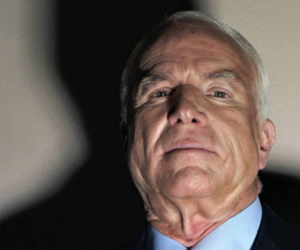 On the eve of the visit of the Minister for Foreign Affairs of Austria, the future OSCE Chairman, Sebastian Kurz to Mariupol on 3-4 January, there is a growing number of bombardments and armed provocations on the southern borders of the Republic. Thus, Ukraine demonstrates to the world community and confirms its aggressive attitude to resolve the conflict.
In this context, we urge the international humanitarian organizations to influence the Ukrainian authorities and prevent another round of the escalation of the conflict in Donbass.
Over the past day, the Ukrainian military violated the ceasefire 542 times, having launched on the territory of the Republic 210 82 and 120mm mortar shells, 210 shells from grenade launchers of different types and made 23 rounds from tanks. In addition, the enemy used in the shelling infantry fighting vehicles and small arms.
The Ukrainian terrorists Gruzevich, Nikolyuk, Sokolov and Delyatitsky shelled the following localities of the Republic: Golmovsky, Zaytsevo, Gorlovka, Nizhnetoretskoye, Krytaya Balka, Spartak, Yasinovataya, Alexandrovka, Kominternovo, Sakhanka, Leninskoye and Trudovskiye in the Petrovsky district of Donetsk city.
Our intelligence continues to record the strengthening of the AFU positions near the contact line.
In Granitnoye (4 km away from the contact line), there was detected the arrival of three 152mm motorized howitzers «Akatsia»;
In Stary Krym (25 km away from the contact line), there were detected five 122mm towed howitzers D-30;
In Zhovanka (2 km away from the contact line), there was detected the arrival of two sniper companies of the enemy, totaling 200 men, to further strengthen the AFU units at the Svetlodarsk arc.
The data about the Minsk Agreements violations were passed to representatives of the JCCC and the OSCE mission.
Vice-Commander of the DPR Defense Ministry operative command Donetsk,Colonel Eduard Basurin